Svensk-Etiopiska föreningen är en opolitisk, religiöst obunden vänskapsförening som bildades i Stockholm 1952. De breda och djupa kontakterna mellan Sverige och Etiopien, som grundlades redan på 1950-talet, är basen och den gemensamma bakgrunden för föreningens medlemmar. Även etiopier bosatta i Sverige har tillfört föreningen ökad kunskap och förståelse för Etiopien, dess land och folk.
Böckerna, som Kerstin Westlund Harbo donerat till Svensk-Etiopiska Föreningen, visade sig enligt en
preliminär bedömning av National Museum of Ethiopia & Heritage Authority i Addis Abeba vara
mycket gamla. Den ena, "Davids psalmer" från början av 1700-talet, den andra en privat bönbok från
1800-talet överlämnades nyligen högtidligen till museet av Biniyam Wondimu, Svensk-Etiopiska
Föreningens ordförande.
"Vi bodde i Etiopien mellan 1980-85 och 1996-2001. Min framlidne man,
Karl Harbo, var en stor samlare och han måste ha köpt böckerna under någon av sina många resor i
landet", berättar Kerstin Westlund Harbo.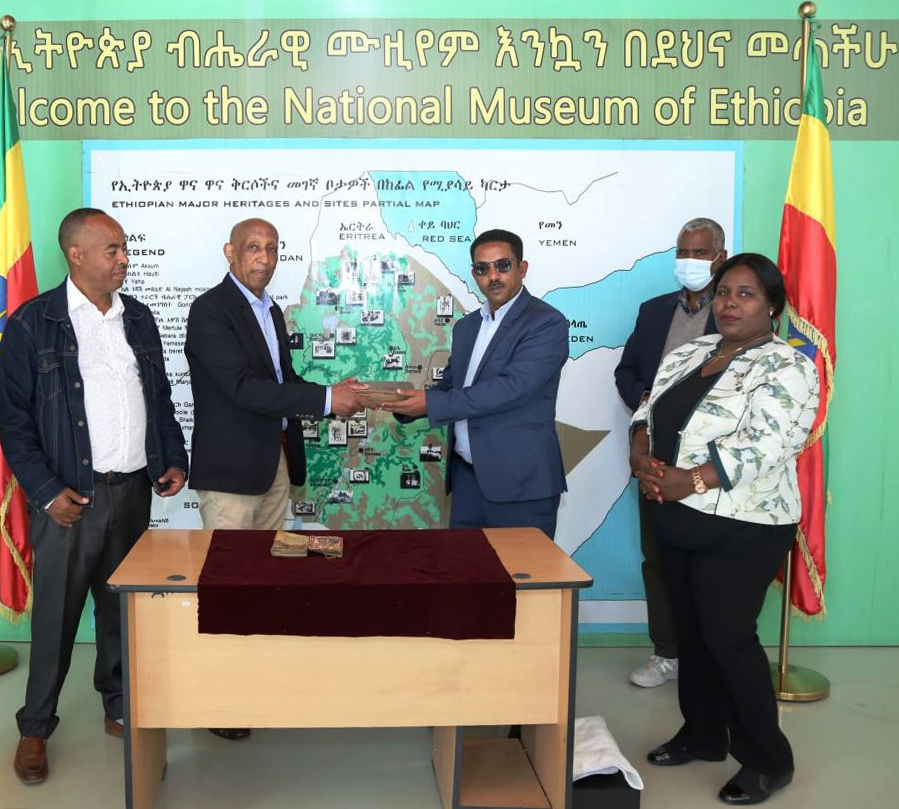 Böckernas överlämnas till National Museum of Ethiopia
Geez är ett fornetiopiskt språk som utvecklades till tigrinska och amahariska och fortfarande används i den Etiopisk-ortodoxa kyrkan.
En större artikel kommer i nästa nummer av Tenaestelin.